Top 5 Wedding Venues in NJ
A wedding day should be elegant and beautiful, however finding the perfect venue for your big day can be tough with so many options to choose from. These are our top picks in New Jersey. From rustic farms to picture-perfect estates, here are the perfect wedding venues to tie the knot.
Jardin de Buis
Pottersville, NJ
Jardin de Buis is a French-inspired estate that creates the perfect atmosphere to organize your fairytale wedding. It offers exquisite event spaces such as a grand hall barn, two glass greenhouses, and multiple gardens/grounds that accommodate for outdoor events. The venue is lined with European antiques that add character to your wedding celebration. Located in Pottersville, New Jersey, this venue is only one hour away from New York City and conveniently located for you and your guests.
The Park Savoy
Florham Park, NJ
This historical garden venue offers the picture perfect setting for your dream wedding. The Park Savoy is mostly known to host outdoor weddings, as the beautiful gardens and landscape create a charming backdrop for outdoor ceremonies. The 19th century architecture creates an elegant and unique feel that will leave your guests speechless. The Park Savoy offers exceptional indoor and outdoor ceremony options and is conveniently located in the heart of New Jersey.
Nanina's in the Park
Belleville, NJ
Nanina's in the Park is a family owned and operated venue. It is known for its extravagant receptions after dark. This venue is a New Jersey landmark, which is surrounded by waterfalls, bridges, and a unique park setting with a bridal walk. Its spacious and antique reception room helps create an elegant ambience for you and your guests.
The Venetian
Garfield, NJ
The Venetian is well known for its extraordinary service and outstanding food. This venue offers in-house event planners that will cater to your every need throughout the wedding planning process. In addition to the professional staff, The Venetian features an elegant grand ballroom for indoor receptions. It also has an outdoor patio and bar for outdoor services. The entrees and desserts that are prepared by their award-winning chefs will stun your guests.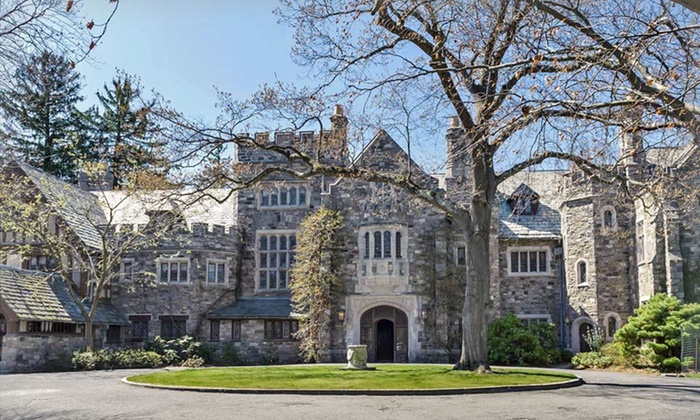 The Skylands Manor
Ringwood, NJ
The Skylands Manor is surrounded by a beautiful forest and is the perfect spot for someone who dreams of a serene and scenic wedding. This venue is located on a 100-acre estate, which features gardens, fountains, beautiful lawns, and tree-lined orchard. It offers a private chapel, ballroom, bridal suite, and more. The Skylands Manor is the ideal venue to plan your dream wedding.